Dear Style Fix,
I just purchased a new pair of shoes – a pair of black, flat mary janes. I really like them but I don't know what I can wear with them. Can you give me some suggestions?
Ms. A
Dear Ms. A,
Mary janes are a classic type of shoe. They come in all kinds of variations and generally mean the have the sort of baby doll look with a closed (and often round toe) with a buckle strap going across the instep.
Sex and the City fans will remember the episode featuring the Monolo Blanik mary janes (which Carrie referred to being an 'urban shoe myth')…..

Lovely… but also $775. Eeep!


Luckily for all of us bottom line watchers there are many other mary jane options out there and many things you can wear them with.


A quick guide for work where is generally to stay away from any platform or dollar store/china town mary janes.
NO! – too goth/costumey
Definitely Not – too cheap & rag doll
Also stay away from styles that are just too clunky.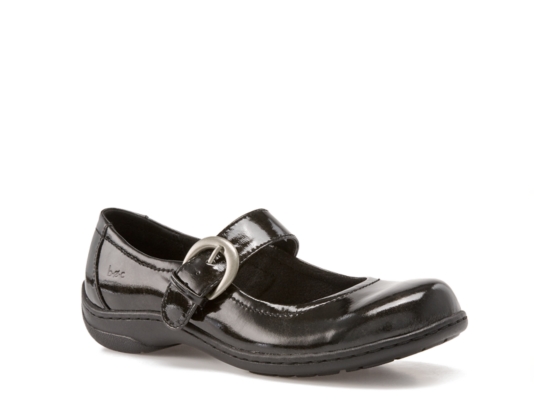 These are a bit orthopedic.
Try and go for something a bit more
dainty and professional.
Try these instead:
Blowfish Naked Mary janes – ~ $30
Sam Endelman ballet flats
 $79 (lastcall.com)
Naya Women's Cara Shoes
$84 (shoes.com)
Naturalizer Women's Irma shoes
$89 (shoes.com)
So the question of the day is…..what can you wear with them?


Well… let's start with what you should avoid. The important thing to remember about mary janes is that they they have kind of a baby doll/childish reference so it's best to stay away from other outfit pieces that are too girly/cutesy. That's called creating a look that's too 'literal' – girly shoes with girly dress with girly jewelry. Just too costumey and you might as well throw a pacifier in your purse.

So avoid dressing too 'literally' – stay far from baby doll/empire cut dresses (fitted just below the bust) and pastels like pale pink/yellow and blue.
Also avoid cutesy jewelry like bugs (ladybugs, butterflies, bees, etc.) , fruit, or bows.
And forget about anything that says 'school girl'. That means NO plaid skirts/kilts and no shift dresses that look like private school wear:
Shift dresses (with no shape/rectangle)
are a NO
Kilts and plaid of any kind are also a NO
(*notice the mary janes in this photo!!)
So what CAN you wear?  Try wearing classic pieces that are polished and womanly:
Bermuda short – the Gap – $45.99
A bold, graphic wrap dress
that hugs your womanly curves.
Wide leg – high waisted 
black trousers
Slim cropped dress pant
(not the same as capris which are
more casual,
generally baggier
 and wider at crop point)
Remember – even though there are some cute black mary janes out there, sometime the safe bet (shoes that go with everything) actually aren't the safe bet after all. Next time try shoes with a bit of kick like yellow, red, pink or blue  – which go with every neutral in your closet (brown, grey, taupe, black, white, navy) and will take you from a style C+ to a rocking A- every time.
Good luck and have fun with your new shoes!!!
STYLE FIX